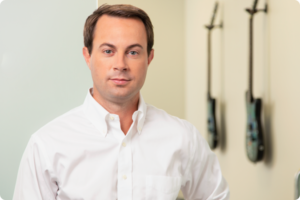 David Crenshaw, CPA, JD
Chief Financial Officer & Corporate Secretary
David Crenshaw serves as the Chief Financial Officer and Corporate Secretary of Confirmation. A mergers and acquisitions attorney and certified public accountant by training, David oversees the accounting, finance, and legal divisions of the company.
Prior to joining Confirmation, David practiced corporate law at Nashville-based Sherrard Roe Voigt & Harbison, PLC, specializing in complex acquisitions, equity and debt financings, securities law, and corporate governance matters. Er vertrat regelmäßig Kunden in den Bereichen Risikokaptial und außerbörsliche Unternehmensbeteiligungen bei verschiedenen Unternehmenstransaktionen, Investmentstrategien, Joint Ventures und anderen strategischen Alternativen.
Vor seiner Tätigkeit als Anwalt war David amtlich zugelassener Buch- und Rechnungsprüfer bei Ernst & Young, LLP, wo er Wirtschaftsprüfungen und Transaktionsberatungen für Fortune-500-Unternehmen mit Sitz in un um Middle Tennessee durchführte.
David hat einen Doktortitel der Rechtswissenschaften von der Vanderbilt University und einen Mastertitel in Rechnungswesen von der University of Tennessee.